Ultra Care VSC
UltraCare Service Contract—For the Distinctive Buyer
The UltraCare Service contract offers unparalleled protection for today's vehicles while at the same time offering its members the peace of mind and the satisfaction that the distinctive buyer deserves.
Some of the highlights of the UltraCare service contract that Continental Warranty members will receive are:
Hybrid components: Coverage for TODAY'S low emmisions vehicle.
Extended seals and gaskets coverage: Making sure that little leak doesn't turn into something major.
Extended electrical, sensor and module coverage: With coverage on over 100 of these intricate parts, this coverage guarantees that your vehicle is running the way the manufacturer intended it to.
GPS Navigational components: Coverage so that you'll always be able to find your way home.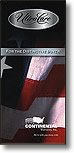 Download UltrCare PDF